BEEN: Sports and Leisure_ Launch Event_ Cells Out_ Big Friendly Show_ Jeanne & Chloe _ Pointless Cinemas_ Chateau Bateau_The Chateau in London EC1_Mise En Scenes _Fireworks Recital _Erotika _
Mise-en-Scene
As part of The Chateau in London Again on 17th September 2004, Mise-en-Scene Proudly Present:
o Intro – Mise-en-Scene - Caroline Campbell
o Test Tube Baby - Gregor Dewar
o Raymundo's Underwater Adventure - 12 Volt Production Company
o Beware of Playing Children - Cecelia Lundqvist
o State of Fear - J. Tobias Anderson
o Billbored i-contact Video - Network
o When the smoke clearz - i-contact Video Network
o Two Sides Angela - Femia
o Promenade the Puzzle - Michelle D'Auria
o I Dream of Dynamite -Deckard
o Read the Signs - Once Were Farmers
o Terminator - Art Pleasure
o Saltlick - Once Were Farmers

Mise En Scene - sofa and cushions short film screening nights -
5th June 2003
russell mcgovern - how i learned to love the media and stop worrying
once were farmers - state trooper saltlick and read the signs
nick gordon deckard - i dream of dynamite
camcorder guerrilla films - faslane big blockade and mayday 2003
sam mulgrew - balloon a
clementine sandison - assasination
jason cuddy - really rough?
greame walker - plastic bag and the first graeme of the year
caroline campbell - 72 frames per second (installation).
artpleasure - shortfilms + interactive performance
more info, pictures and links about the above coming mise en soon. (where's yours?)
Mise En Scene the second one. November 6th 2003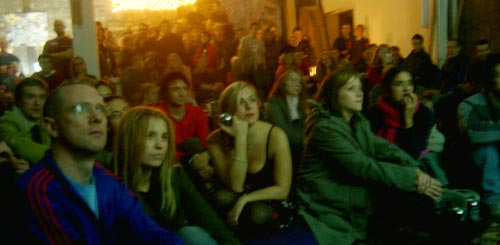 Films from:

Art Pleasure

Graham Bowman

Kate Burton

John Butler

Marc De Launa

Gregor Dewar

Jaygo

Fiona Reid

Kevin Reid

Kristian

12 Volt Productions (edited by once were farmers )

Cath Whippey

Installations:

Caroline Rodger

Jelly

Spudd

this photo thanks to holeinmypocket
more info, pictures and links about the above coming mise en soon.
NEXT ONE: THERE WIL BE ANOTHER ONE THIS WINTER, MIGHT AS WELL MAKE THE MOST OF THE SPACE HEATERS
The Chateau - 10000 sq foot events / visual arts / design / music / studios & drama space in almost-riverside, city centre art deco panoramicia & other things in other places (including a rice cooker)
email marvel@chateaugateau.co.uk to receive info about events and stuf_____________________www.chateaugateau.co.uk